EARSNAKE describes in the distant past and near future:
Forthwith and ever after,
In Delphi, Istanbul, Lagos, Berlin, Hanover, and in between
Never more shall a capitalist or patriarch abuse as in the old regime
The chasm at Delphi, Gaea's steamy cunt reopens, giving
Multiple orgasms to all with her vapors no matter what gender
They were assigned at birth in the crusted phallic order
Menstrual blood, breast milk and pussy juice flow from and over
The three heads of the Serpent Column in the Merzbau of Hanover.

Those unfit to move with the times before they bite,
Obsolete nemeses to what's fair and right
Disposable founding fathers espousing war
Whetting her fangs for them, the earsnake roars
Hear her exultant hiss:
Empire falls.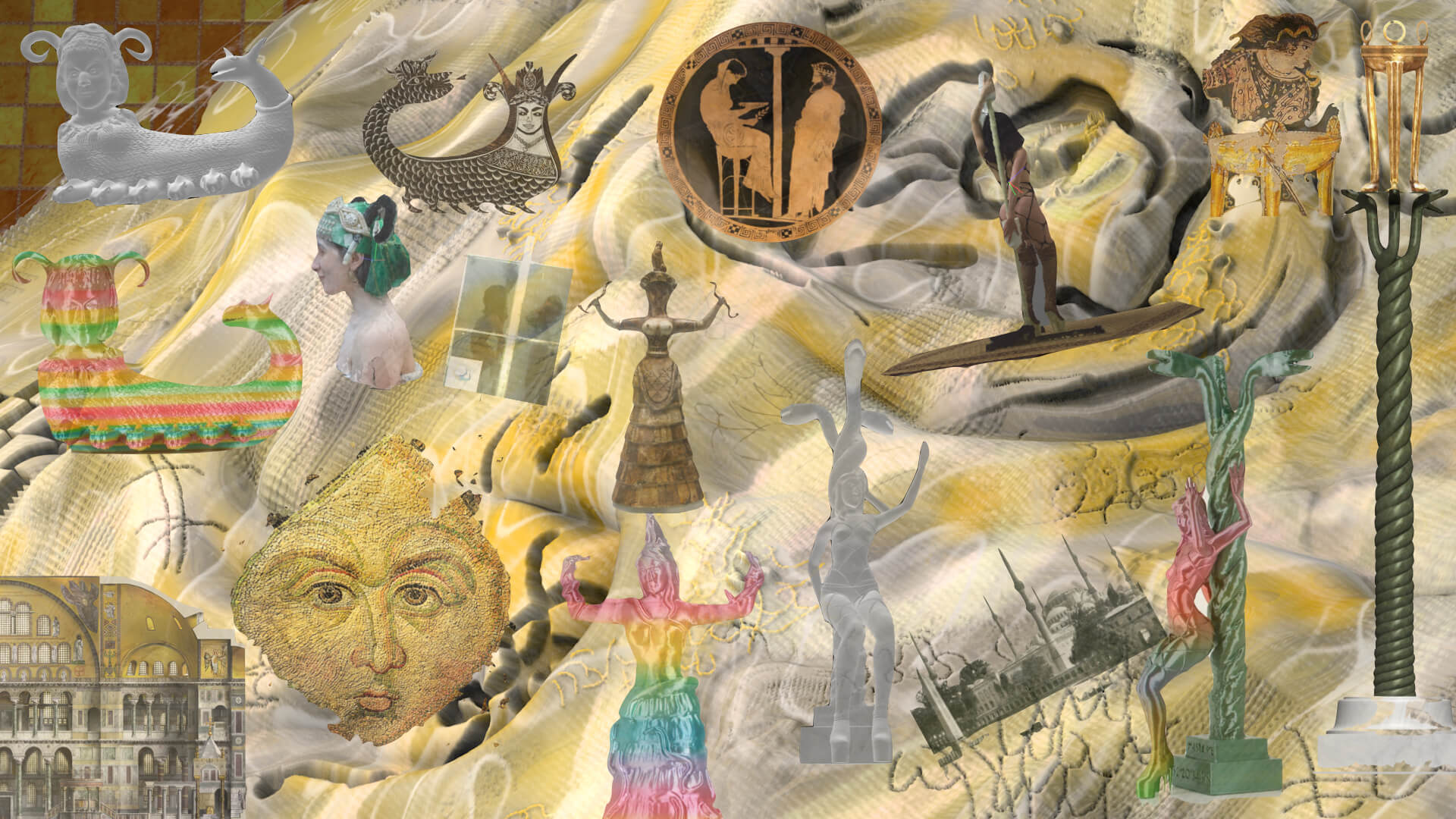 SELIN DAVASSE is a performance artist. Her research-based practice repurposes disparate literary and performative techniques to engage with ethics and politics from alternative presents and speculative futures. Composed of narrative and sonic textures, her work condenses systems of thought into intimate feminine expressions; and takes shape as spoken-and-sung performances with participatory, playful and parodic layers forming heterogeneous hospitable relations with the audience. Her works have been presented at Rokolectiv Festival, Bucharest (2021); MEDITERRANEA 19 Young Artists Biennale, San Marino (2021); Volksbühne, Berlin (2020-2021); Slavs and Tatars' Pickle Bar at KW Institute for Contemporary Art, Berlin (2020); "Queer Art, Culture and Politics from Turkey and its Diaspora Symposium" at Goldsmiths College, London (2020); 3hd Festival, Berlin (2018); Schwules Museum, Berlin (2015) among others. She is a member of The Society for Matriarchal World Domination whose collective works are in the collection of Kunstbibliothek der Staatlichen Museen von Berlin (2019) and a recipient of the Centrale Fies Live Works 9 fellowship, Trento (2021–2022). She co-organizes GLASSHOUSE.
ZOË CLAIRE MILLER is a sculptor and organizer. She is a co-founder of the Berlin Art Prize and The Society for Matriarchal World Domination and a spokeswoman of the BBK Berlin (the Berlin artists' union). Her work in the media of sculpture and installation engages with sensuality, tactility, queerfeminist theory and emancipatory politics. In past exhibitions she has explored themes such as matriarchal utopias, exorcising capitalism by means of collective raku firing, female masturbation as a metaphor for creative production and the disintegration of the body as a pleasurable experience. She works with interspecies perspectives and collaborative modes of production, aiming to dissolve proprietary paradigms and negate the historical cliché of the lone creative genius as well as the contemporary spectre of competitiveness. Her works have been shown at the Berliner Festspiele (2021), Coast Contemporary, Oslo (2020); Bergen Assembly (2019); Vienna Art Foundation (2019), 5X5X5, Manifesta, Palermo, Ansbach Contemporary Biennale (2018); Neuer Berliner Kunstverein. (2018), Kunsthalle Freeport, Athens (2017): Moscow Biennale For Young Art, RU (2016), Glasgow International, Glasgow, GB (2016); as well as in other riveting venues and contexts.
LUGH O'NEILL is a composer and spatial sound designer. His work navigates an eerie and evocative space formed by the overlap between what is recognisably tangible and familiar and the aseptic sterility of the digital – the separation of which is continuously and progressively challenged. In recent works, Lugh has focused on emphasising the potential of spatialisation in sound composition – while sound composition is traditionally conceived over the spectra of frequency and time, Lugh's work utilises space as another dimension in which sound and music composition is written. Lugh has performed in concert settings and produced audio-visual work for contexts such as the KW Institute for Contemporary Art Berlin, Design Miami/Basel, cafe OTO London, Point Ephèmere Paris, Bloomberg New Contemporaries at ICA London, and collaborated on projects with artists such as Jakob Kudsk Steensen and Tomas Saraceno. As co-founder of C.A.N.V.A.S. — a record label and events series — Lugh has released his own works such as the Re Munus LP, directed the research based Cipher and Apocope compilation LPs,
and co-produces other works released on the label.
Performances:
Selin Davasse and Zoë Claire Miller
Music:
Lugh O'Neill
Costumes:
Maldoror
3D Animations:
Ana Gzirishvili
Light Design:
Veslemøy Rustad Holseter
Videography:
Silke Briel
Hair and Makeup:
Clara Dietz Sarries
Supported by:
Schloss Biesdorf
Thanks to:
Alexander Arpeggio, Billy Bultheel, Doireann O'Malley, Pit Palesche, Spyros Rennt, Karin Scheel, Oliver Scheifinger and Wieland Schönfelder
Onscreen Premiere:
29.12.2021
Offscreen Premiere:
Coming Soon!
Commissioned and produced by GLASSHOUSE.